Main content starts here, tab to start navigating
Menus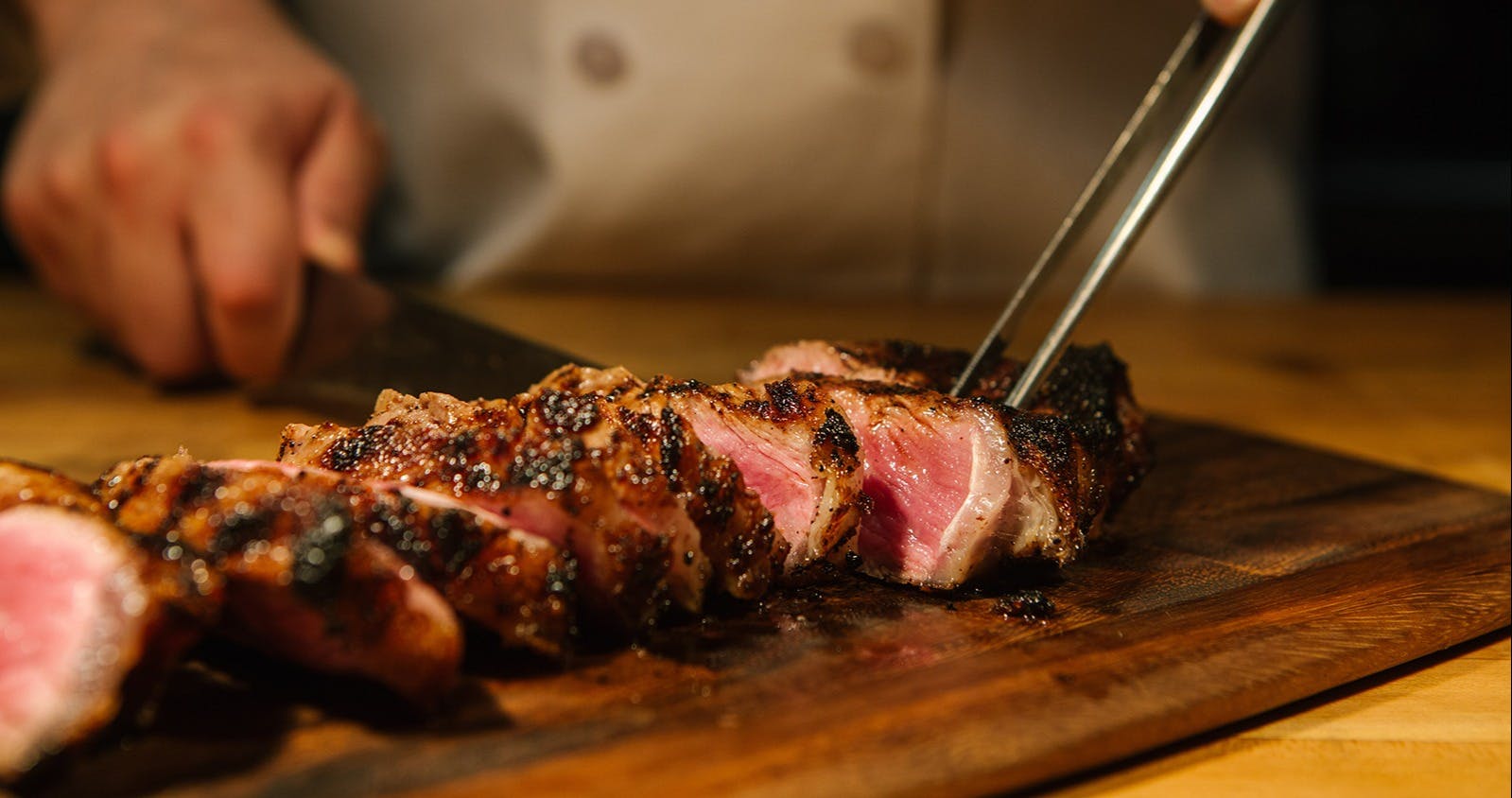 Raw Bar
Chilled Seafood Tower

Maine lobster, snow crab claws, oysters, tuna tartare, poached Mexican white prawns

$59

Oyster on The Halfshell

selection of west coast oysters, tobacco, lemon, apple mignonette

$24

Tuna Tartare

avocado purée, citrus ponzu, crisp wantons

$21

Prawn Cocktail

lemon, julienne iceberg, Louis sauce

$21
Cold Appetizers
Seasonal Mixed Greens

Tobacco onions, cherry tomato, croutons, honey-citrus vinaigrette

$11

Steakhouse Wedge Salad

applewood-smoked bacon, Point Reyes blue cheese, Hyde's herbs

$13

Romaine Caesar

Petite romaine hearts, anchovy, focaccia crouton, parmesan

$14

Grilled Pears and Arugula

Shaved fennel, candied pecans, goat cheese, pomegranate vinaigrette

$17
Hot Appetizers
Caramelized Diver Scallops

Roasted fennel, bourbon-bacon vinaigrette

$20

Prosciutto Toast

Grilled focaccia, whipped ricotta, pine nuts, balsamic

$19

Crispy Pork Belly

sweet potato, cured egg yolk, bliss maple syrup

$18

Crisp Artichoke Hearts

Lemons, vegan garlic aioli

$18

vegan

French Onion Soup

Focaccia, gruyere cheese

$13
Entrees
Filet Mignon* 8oz

Shallot Jam $53

Oscar Style $72

Au Poivre $62

Prawn Scampi $74

Tournedo Trio

3 (4 oz) filets, prawn scampi, foie gras, brandied peppercorn

$91

Ribeye* 16 oz

Spring onion

$59

Dry Age Ribeye* 16 oz

Foie butter

$79

New York* 14 oz

Garlic confit

$51

Hanger Steak* 10 oz

chimichurri

$45

Flat Iron* 8 oz

Caramelized onions

$43

Surf 'n' Turf

Petite 4 oz filet*, half Maine lobster butter-poached

Market Price
Add Ons
Scampi Prawns

$21

Blue Crab Oscar Style

$19

Alaskan King Crab

Market Price

Point Reyes Blue Cheese

$8

Au Poivre

$9
Seared Sea Bass* Newburg

Spiced asparagus, roasted creamer potatoes, preserved lemon

$41

Ora King Salmon*

White bean ragu, tomato chutney, beurre blanc

$38

Crispy Sonoma Free-Range Chicken*

Braised greens, yukon purée, cajun spice, natural jus

$33

Roasted Veal Chop*

Sautéed spinach, piccata sauce

$65

Cider Brined Kurobuta Pork Chop*

Turbinado caramelized yams, apple and onion jam

$39

Braised Short Ribs*

Creamy polenta, roasted garlic, red wine demi-glace

$55

Alaskan King Crab

1 or 2 pounds, buttercream, charred lemon

Market Price

Smoked Oyster Fettuccine

Sautéed spinach, artichoke hearts, Dorati tomato, garlic cream

$38

Grilled or Steamed Maine Lobster

Ritz cracker stuffing, charred lemon, butter sauce

Market Price
Sauces
Béarnaise

$3

Red Wine Jus

$3

Chimichurri

$3

Brandied Peppercorn

$3

Creamy Horseradish

$3
Sides
Asparagus

$9

Broccolini

$9

Sautéed Mushrooms

$9

Brussels Sprouts

$9

CP French Fries

Chipotle aioli

$9

Twice Baked Truffle Potato

$9

Yukon Gold Potato Purée

$9

4 Cheese Mac & Cheese

$9
WEEKLY ENTRÉE SPECIAL FOR TWO
Join us for a weekly entrée special at Charlie Palmer Steak Reno. Each week, Chef Michael Mahoney will feature a limited Large Cut Special for Two.
Tuesday, January 5 - Thursday, January 7 | Starting at 5:00 pm
OUR WEEKLY SPECIAL IS IN LIMITED SUPPLY AND MUST BE CONFIRMED OVER THE PHONE.
CALL 775.789.2456 TO RESERVE ASAP.
LARGE CUT FOR TWO
LONG-BONE TOMAHAWK RIBEYE, 36OZ

TRUFFLE STEAK FRIES, MAPLE GLAZED CHARRED BRUSSELS SPROUTS, CARAMELIZED ONION

entrée for two $135
Wines by The Glass
Moscato, Tintero, Moscato D'asti, Piedmont, Italy

$12

Sparkling Wine, Charlie Palmer, "Aureole Cuvee" by Iron Horse Vineyards, Sonoma

$15
White
Pinot Grigio, Famiglia Cielo Dal 1908, Delle Venezie, Italy

$12

Riesling, Trefethen, "Dry Riesling", Oak Knoll, CA

$15

Gewürztraminer, Hyland Estates, Willamette Valley, OR

$11

Sauvignon Blanc, Cade by Plumpjack, Napa Valley, CA

$16

Chardonnay, Rombauer Vineyards, Carneros

$19

Chardonnay, Frank Family, Carneros, CA

$17
Red
Pinot Noir, Higher Ground, Central Coast, CA

$12

Pinot Noir, Hahn Slh, Santa Lucia Highlands, CA

$14

Sangiovese Blend, Villa Antinori, Toscana IGT

$17

Merlot, Charles Krug, Napa Valley, CA

$13

Malbec, Mi Terruño "Reserve", Mendoza, Argentina

$13

Zinfandel, Frank Family Vineyards, Napa Valley

$19

Tempranillo, Torres, "Celeste", Ribera Del Duero, Spain

$14

Cabernet Sauvignon, Justin Winery, Paso Robles, CA

$17

Cabernet Blend, Whitehall Lane, "Tre Leoni", Meritage, Napa Valley, CA

$16
Classic Old Fashioned
Woodford Reserve Bourbon / Demerara / Bitters

Profile: Classic Cocktail-Cinnamon, Subtle Spice, Bourbon Forward

$18
Barrel Aged Manhattan
Belle Meade Cask Strength Bourbon / Carpano Antica Formula / Bitters

Profile: Classic Cocktail-Spirit Forward House-Aged in Oak Barrel

$23
Dirty Blue
Tahoe Blue Vodka / Olive Juice / Hand Stuffed Blue Cheese Olives

Profile: House Original Cocktail-Spirit Forward, Slightly Dirty

$16
SV5
Tito's Vodka / Lemon / Sugar / Strawberries / Moscato D'asti

Profile: House Original Cocktail-Fruit Forward, Refreshing, Bright

$16