Main content starts here, tab to start navigating
Menus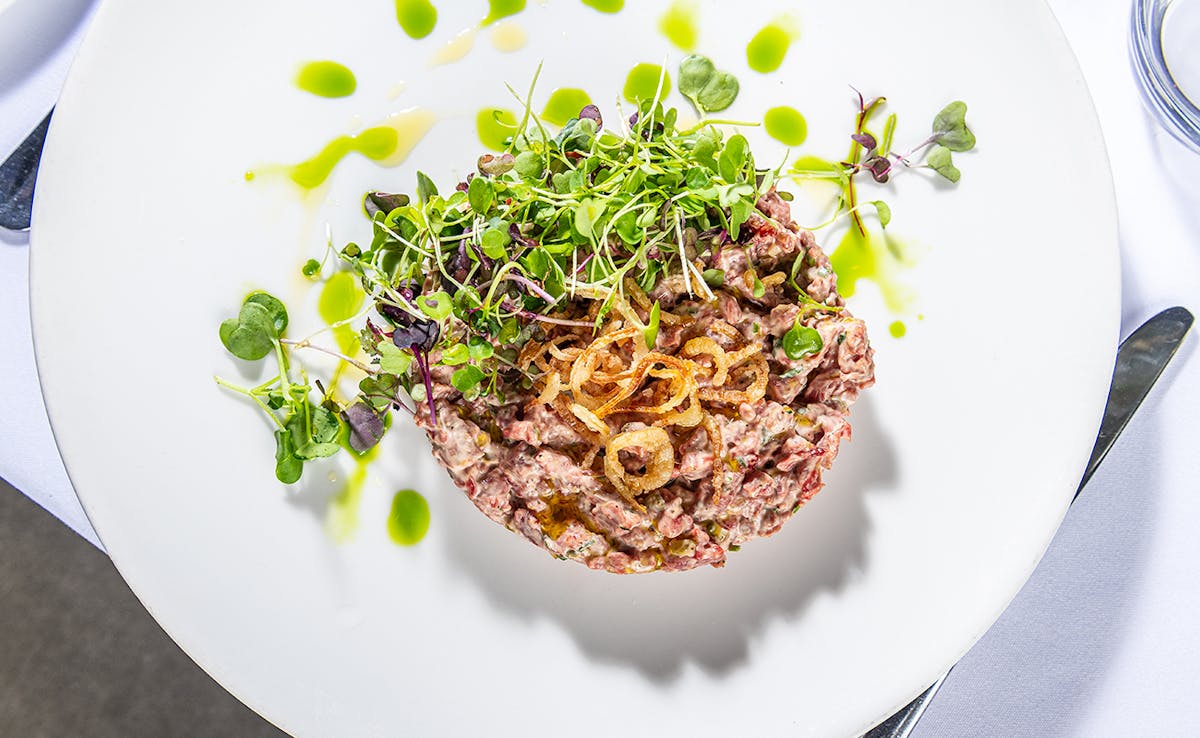 Slide 1 of 6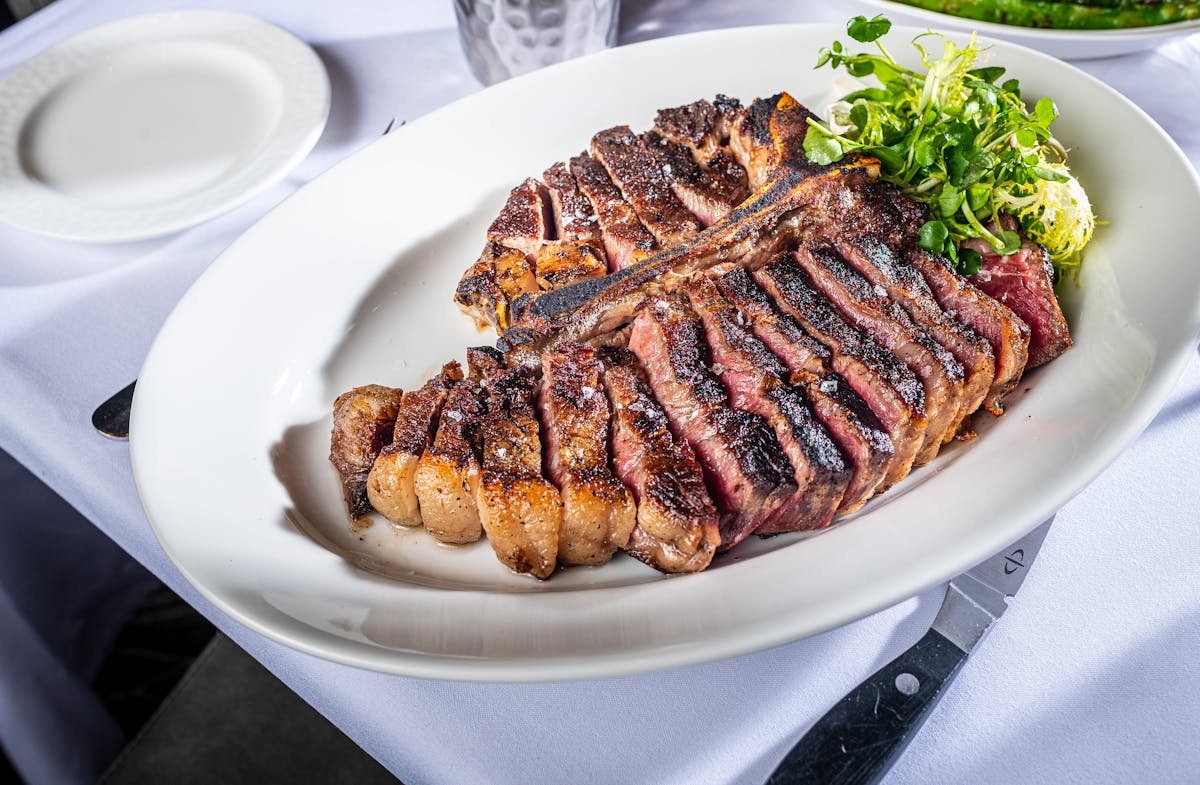 Slide 2 of 6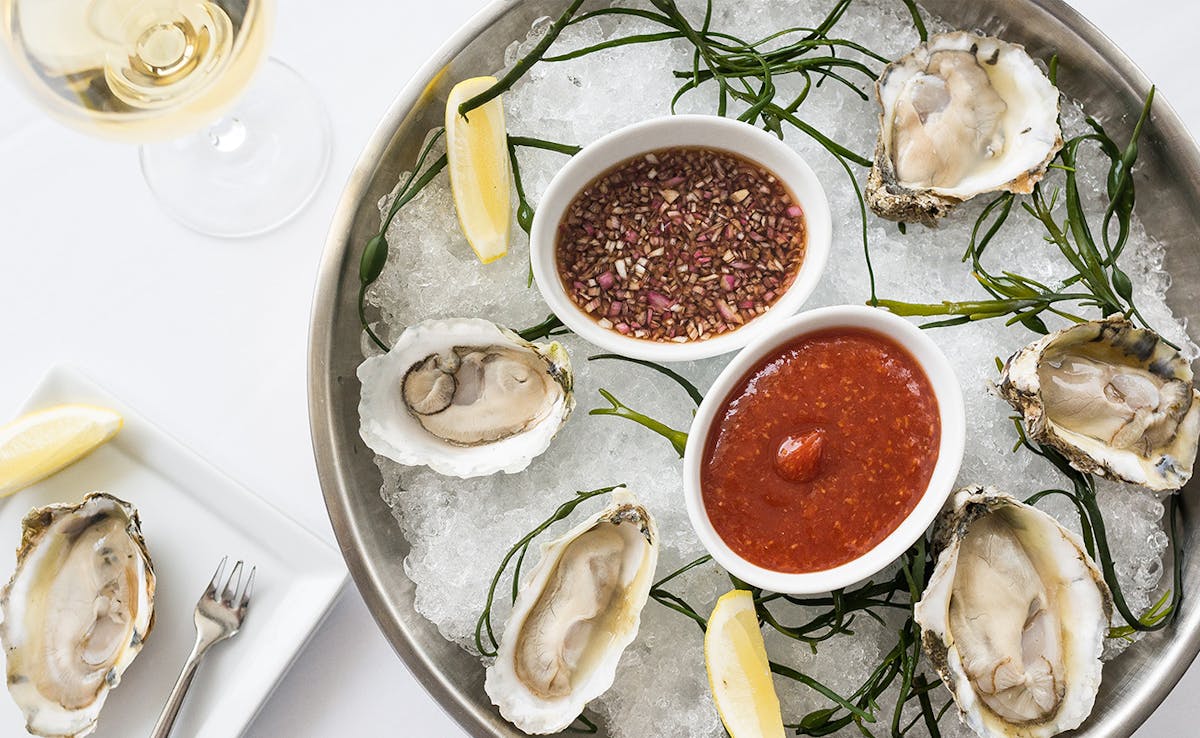 Slide 3 of 6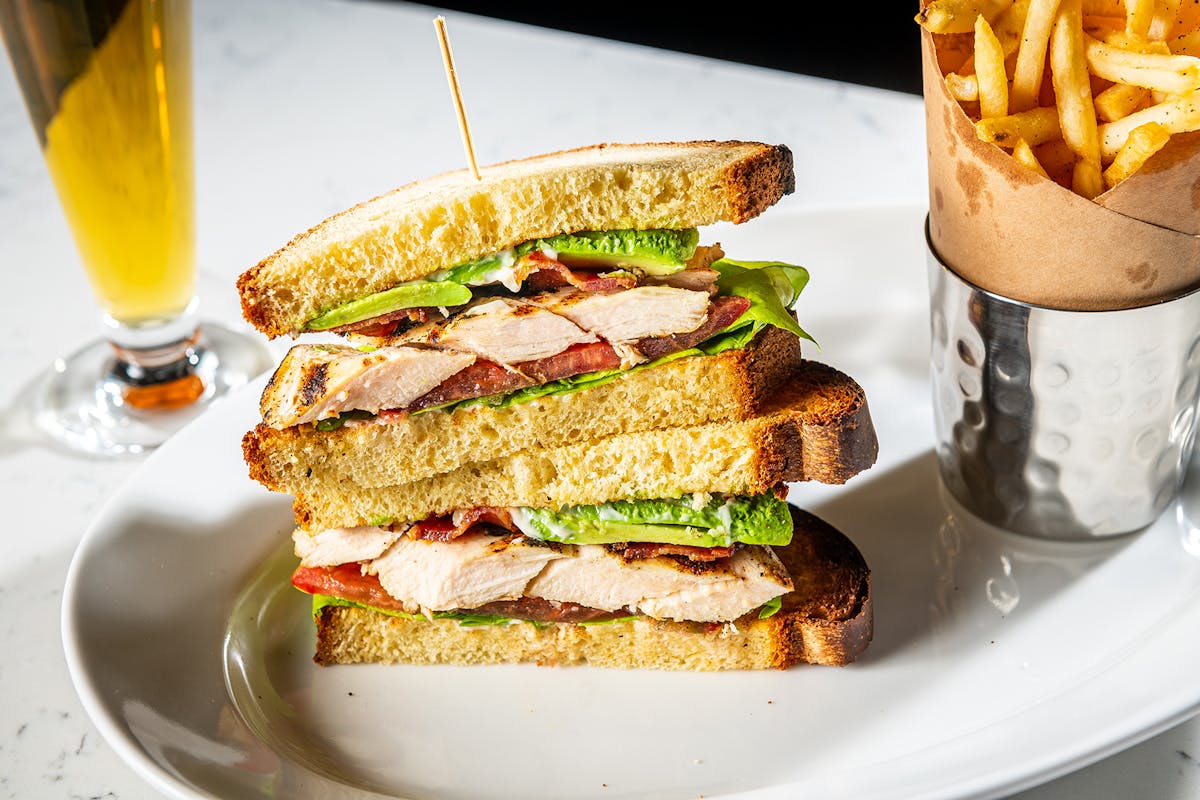 Slide 4 of 6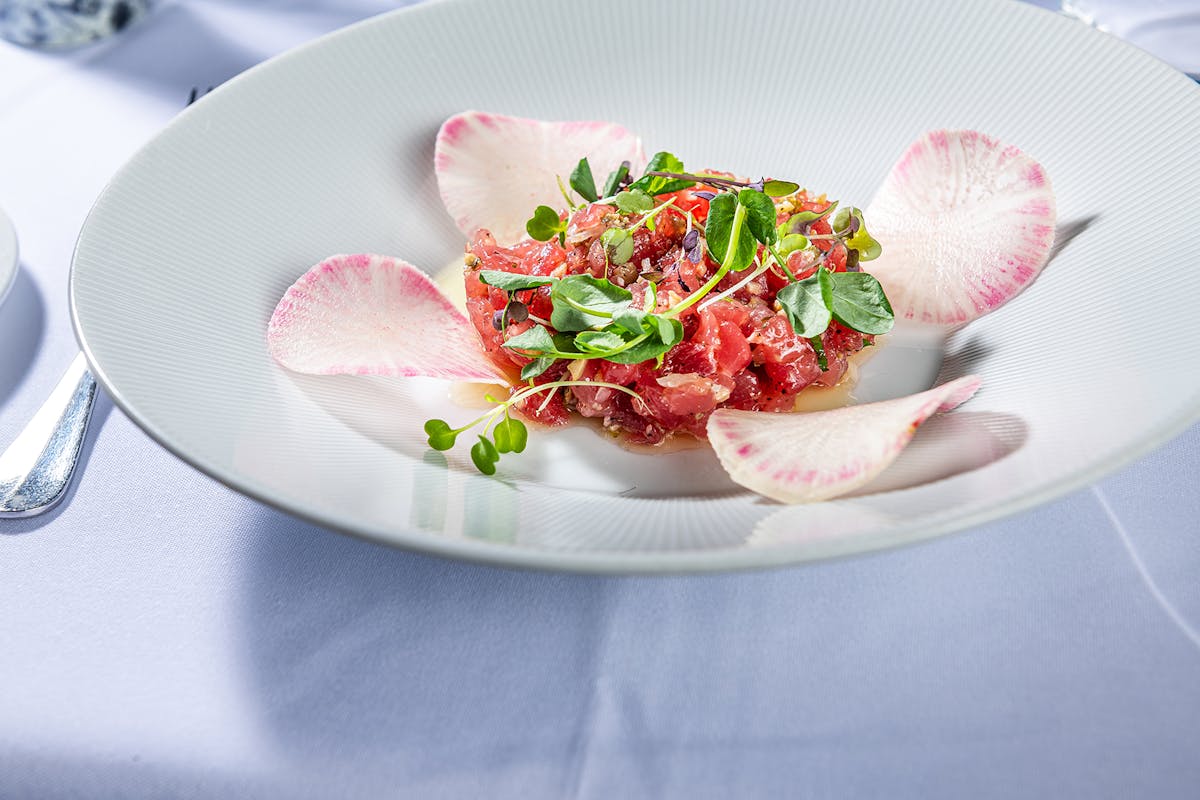 Slide 5 of 6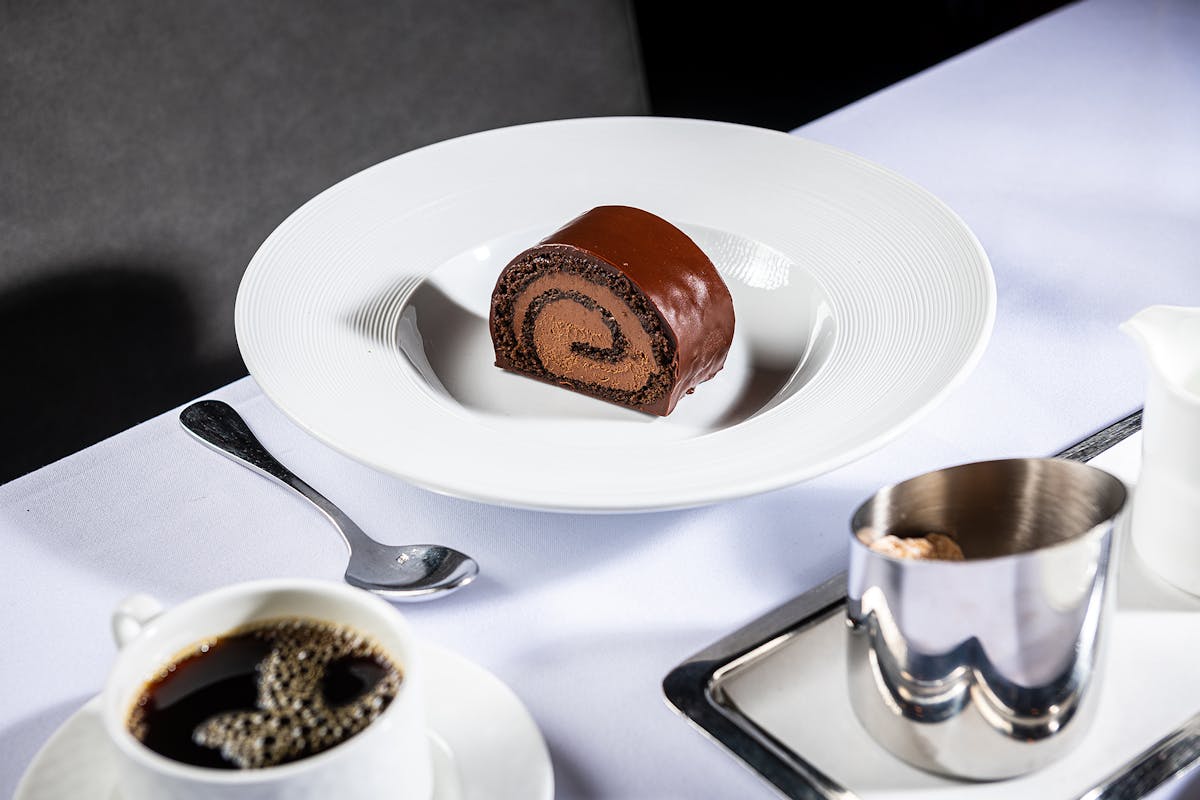 Slide 6 of 6
PRIX-FIXE LUNCH
Includes choice of starter + entrée | $39
Choice of dessert for an additional $6
Offered Tuesday - Friday 11:45am - 2pm
Starter
choose one
Kale & Brussels Sprouts Salad

sherry vinaigrette, pine nut, and quinoa crunch

LENTIL SOUP

smoked bacon, brussels sprouts
Entrée
choose one
Crispy Skate Wing

arugula, citrus, sauce gribiche

Grilled Shrimp

quinoa salad, eggplant, romesco

Beef Kebab

hummus, baba ghanoush, za'atar, pita
Dessert
+6 | choose one
Carrot Cake

pecans, cream cheese frosting

Selection of Ice Cream
Raw Bar
East Coast Oysters

(6) classic mignonette

$21

Jumbo Prawn Cocktail

(6) cocktail sauce, classic mignonette

$28

Chilled Half Lobster

cocktail sauce

$25

Seafood Platter:

Le Petit

oysters (6), clams (3), shrimp (3), mussels (10)

$38

Le Grand

oysters (12), shrimp (6), clams (6), mussels (18), half lobster

$70

Le Magnifique

oysters (18), shrimp (12), clams (12), mussels (24), whole lobster

$150
Starters
Chicory Salad

endive, radicchio, asian pear, etrog citrus

$16

Grilled Caesar Salad

charred romaine, sourdough crumble, pecorino, broken vinaigrette

$17

Kale & Brussels Sprouts Salad

sherry vinaigrette, pine nut and quinoa crunch

$16

Steak Tartare

dry-aged beef, cured egg yolk, toasted sourdough

$19

Onion Soup Gratinée

caramelized onion, bone broth, crouton, gruyère

$15
Bites
Roasted Bone Marrow

hackleback, smoked roe, pickled shallots

$23

Dry Aged Beef Skewer

seasoning salt, lemon

$18

Fish Collars and Cheeks

spicy tartar sauce (limited availability)

$17

Foie Gras

spiced cherry compote, mustard greens

$28

Tsar Nicoulai Caviar

onion dip, house-made chips

$100
Entrées
Steakhouse Burger

grilled onion, cheddar, au poivre sauce, cp crisp fries

$24

Spicy Lobster Spaghetti

oven-roasted tomato, extra virgin olive oil

$35

Organic Half Roast Chicken

adobo spiced

$26

Steak Frites

au poivre sauce, crisp cp fries

$36

Braised Beef Short Rib

yukon gold potato purée

$38
Steaks
Prime Dry Aged Porterhouse for 2 (32oz)

$68 per person

Painted Hills Bone-In Ribeye for 2 (38oz)

$68 per person

Double-Cut NY Steak Au Poivre for 2 (28oz)

$55 per person

T-Bone (22oz)

$62

New York Strip (16oz)

$58

Center Cut Filet Mignon (8oz)

$55

Sauces

choose one, $3 each additional: cp steak sauce, béarnaise, red wine, creamy horseradish, chimichurri, au poivre
Add Ons
Blue Cheese

$6

Broiled Half Lobster Tail

$25

Seared Hudson Valley Foie Gras

$28
Fish & Seafood
Big Glory Bay King Salmon

$39

DORADE SAUCE VIERGE

$44

Grilled Stuffed Lobster

(1.5lb)

$48
Sides
Side Salad

$7

Spinach

creamed or sautéed

$13

Hen of the Woods Mushroom

$13

BROWN BUTTER CAULILINI

$13

Mac & Cheese

$13

add lobster $10
Potatoes
Crisp CP Fries

$13

Yukon Gold Purée

$13

Baked Idaho Potato

butter, sour cream

$13

Potato Gratin

$13
HAPPY HOUR
THE BAR + THE PATIO
Tuesday – Friday | 4-6 PM

SELECT DRINK SPECIALS
BAR + PATIO MENU FOOD HALF-PRICED

Food
East Coast Oysters

(6) classic mignonette

$21

Tuna Crudo

Lemon & thyme dressing, fennel & sesame crisp

$19

Guacamole

Green papaya, charred peach, jalapeño, tortilla chips

$16

Vegetable Spring Rolls (v)

Sweet chili dipping sauce

$16

Beef Tartare

Classic seasoning, toasted baguette

$19

Pigs-In-Blanket

(5) dijon mustard

$14

Dry Aged Beef Skewer

Seasoning salt, lemon

$18
Wines by The Glass
Prosecco

Bisol, Desiderio Jeio, Brut, Veneto, Italy, NV

$12

Champagne

Louis de Sacy, Brut, Rosé de Saignée, Verzy Grand Cru, France, NV

$22

Champagne

Pol Gardere, Brut, France, NV

$25

Rosé

Mirabeau, Côtes de Provence, 2020

$14

Grüner Veltliner

Pichler-Krutzler, Klostersatz, Wachau, Austria, 2016

$16

Sauvignon Blanc

Serge Laloue, Sancerre, Loire Valley, France, 2020

$18

Chardonnay

Domaine Laroche, Saint-Martin, Chablis, Burgundy, France, 2018

$21

CHARDONNAY

Limestone, Alexander Valley, Sonoma County, CA, 2018

$16

Pinot Noir

Elk Cove Vineyards, Estate, Willamette Valley, Oregon, 2019

$17

Sangiovese

Volpaia, Chianti Classico, Tuscany, Italy 2019

$16

Grenache Blend

Vidal-Fleury, Côtes Du Rhône, France, 2017

$15

Cabernet Sauvignon

Trefethen « Eshcol », Napa Valley, California, 2019

$18

Tempranillo

Hacienda Lopez de Haro, Gran Reserva, Rioja, Spain 2011

$19
Cocktail
CPS Manhattan

whiskey, sweet vermouth, bitters

$16

Charlie's Negroni

gin, sweet vermouth, campari, aperol

$16

Sage Advice

mirabeau rosé gin, lime, sage syrup

$16

Cranberry Mule

vodka, ginger beer, lime, cranberry purée

$16

Notorious F.I.G.

bourbon, lemon, fig jam, orange bitters

$16

The Luchini

tequila, lime, cointreau, amaretto, chili syrup

$16
Beer
DRAFT $8

Stella Artois

Lager

Blue Point

Winter ale

Goose Island

Next coast IPA

BOTTLES $7

Amstel Light

Lager

Brooklyn Brewery

Lager

Heineken

Lager

Blue Moon

White ale

Shipyard

Monkey first IPA

Sixpoint

Resin IPA

Buckler

Non-alcoholic
PRE-THEATRE MENU
Includes choice of starter + entrée | $49
Choice of dessert for an additional $6
Offered 5pm-6pm
Starting on 9/28
Starter
choose one
East Coast Oysters (4)

champagne mignonette

Grilled Romaine Caesar

charred romaine, sourdough crumble, pecorino, broken vinaigrette

Castelfranco Salad

radicchio, lardo, gorgonzola dulce
Entrée
choose one
Big Glory Bay King Salmon

haricot vert, cherry tomato, béarnaise

Spicy Lobster Spaghetti

oven roasted tomato, extra virgin olive oil

STEAK FRITES

au poivre sauce, crisp cp fries
Dessert
+6 | choose one
NY STYLE CHEESECAKE

mixed berry topping

3-Layer Chocolate Cake

salted chocolate ice cream
Desserts
$13
NY Style Cheesecake

strawberry topping

Carrot Cake

spiced cake, organic carrots, creamed cheese frosting, walnuts

Crème Brûlée

vanilla custard, caramelized sugar

Ice Cream

seasonal selection

CHOCOLATE BROWNIE

walnuts, vanilla ice cream

Fresh Berries
CHEF'S SIGNATURE DINNER FOR TWO
3-COURSES | $299
All-Inclusive (includes tax & gratuity)
PRE-BOOK THIS SPECIAL OFFER ON
TOCK
**SPARKLING UPON ARRIVAL**
STARTER
choose one
EAST COAST OYSTERS

(6) classic mignonette

CASTELFRANCO SALAD

raddichio, lardo, gorgonzola dulce
ENTRÉE
PRIME DRY AGED PORTERHOUSE FOR TWO

(32OZ)
FAMILY-STYLE SIDES
CP CRISP FRIES

CREAMED SPINACH
SOMMELIER SELECTED WINE
2011 Chateau Fayan, Puisseguin Saint Emilion
DESSERT
choose one
NY STYLE CHEESECAKE

STRAWBERRY TOPPING

CHOCOLATE BROWNIE

WALNUTS, VANILLA ICE CREAM
CHRISTMAS EVE
December 24 | 5-9pm

Featuring Holiday entrée specials + á la carte menu.
Reservations on OpenTable.
Entrée Specials
PRIME RIB

yorkshire pudding

$65

Christmas Goose

sugar plums, cognac-caramelized parsnip purée

$48

Potato Latke

smoked salmon, crème fraîche, caviar

$36
NEW YEAR'S EVE
December 31 | Featuring Two Offerings
À la Carte Dinner Menu
5 to 6pm reservations accepted
**please note: these tables are reserved for a maximum of 2 hours and must be vacated by 8pm**
Gala Event
Reservations starting at 8pm
Four-Course Tasting Menu | $245 per person
Includes champagne toast at midnight, music and party favors.
Full Cocktail, Wine and Beer Menu available. Beverages at an additional charge.
Reservations on OpenTable.
First Course
choose one
EAST COAST OYSTERS

caviar, cucumber mignonette

or

TUNA TARTARE

black truffle, celery root
Second Course
FRESH CHEESE RAVIOLI

parmigiano reggiano, white truffle
Third Course
choose one
TOURNEDOS ROSSINI

filet mignon, foie gras, truffle, madeira demi-glace

or

LOBSTER À L'AMÉRICAINE

tomato, tarragon, cognac, basmati rice
Dessert
BLACK FOREST CAKE

classic with cherries + whipped cream
TIMES SQUARE DETAILS
42nd Street will be closed off by the NYC Police Department.
Guests must provide a valid email address when booking. The Charlie Palmer Steak team will email guests a Times Square Pass so guests will be able to enter 42nd Street by foot and walk to the restaurant.