Main content starts here, tab to start navigating
Menus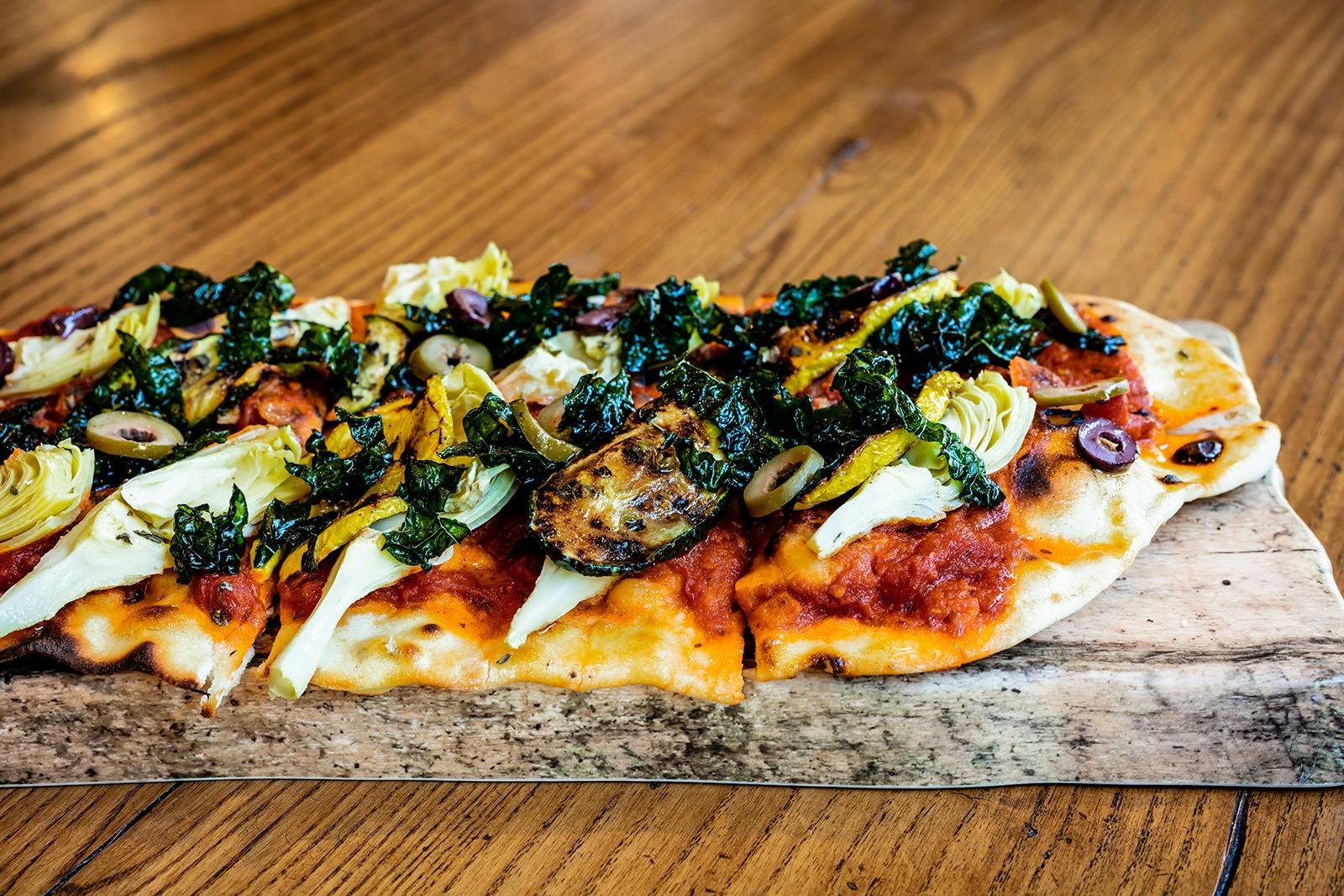 Dinner at Charlie Palmer Steak Las Vegas
Las Vegas Strip, Meet New York Strip
Dinnertime at Charlie Palmer Steak showcases the best of renowned chef Charlie Palmer's signature progressive American cooking, from prime steaks and chops to hand made pastas and inventive seafood dishes.
Raw Bar
Shellfish Platter

Maine lobster, oysters, clams, shrimp, crab claws, and ceviche served on a bed of ice with cocktail sauce, champagne mignonette, and red pepper remoulade

$40 per person

Citrus Marinated Wild Baja Prawns

Carrot salad, classic cocktail sauce

$24

Seasonal Oysters on The Half Shell

Champagne mingonette, lavash crisps

$25

Yellowfin Tuna Tartare

Avocado-tomato relish, lavash crisps, citrus ponzu

$27
Salads
Traditional Caesar Salad

Garlic crouton, shaved grana padano

$18

Baby Spinach Salad

Truffled egg, bacon, warm mustard vinaigrette

$17

Bibb Lettuce

Belgian endive, double smoked bacon, upper ranch dressing

$17

Beets + Goat Cheese

Lolla Rossa lettuce, citrus vinaigrette, crispy quinoa

$19

Burrata

Baby mustard, acorn squash, sage vinaigrette

$17

Fried Crab Thai Style

Papaya, jicama, cilantro, curry vinaigrette

$24
Appetizers
Sweet + Sour Calamari

Frisee and radish salad, toasted sesame seeds

$19

Little Neck Clams

Apples, andouille, blistered cherry tomatoes, grilled sourdough

$20

Seared Hudson Valley Foie Gras

Pistachio french toast, braised pineapple, whiskey syrup

$28

Tomato Soup

Toasted comté sandwich, crème fraîche, micro basil

$16

Beef Tartare

Fried capers, charred scallion aïoli, fresh horseradish, kalamata toast

$27

Journeyman Charcuterie and Cheese Board

Pickled figs, stone-ground mustard

$35
CP Featured Cuts
Japanese Wagyu Beef

A5, Kagoshima, Japan (3 oz minimum) Ultimate marbling with a remarkable flavor profile and incredible juiciness

$30 per ounce
Steak + Chops
Filet Mignon

$52

Flat Iron

$41

NY Strip

$54

Bone-In Ribeye

$60

Porterhouse for Two

$110
Sauces
Roasted Garlic Jus

$3

Bearnaise

$3

Blue Cheese Fondue

$7

Green Peppercorn

$3

Red Wine Natural

$3

Horseradish Cream

$3
Steak Add-Ons
Seared Foie Gras

$24

Maryland Crab Oscar

$22

1/2 Maine Lobster

$25

Bone Marrow

$12
Specialty Cuts
Pork Rib Chop

Grilled apples, pickled fresno chili, mustard seed, riesling reduction

$41

Braised Bone-In Short Rib

Spicy pear purée, tamarind glaze

$45

Rack of Lamb

Braised figs, mint pesto, pistachio

$54
Mains
Ritz Cracker Stuffed Maine Lobster

2 pounds, charred lemon

$75

Surf + Turf

Stuffed Maine lobster, petite filet mignon

$75

Halibut

Chive celery root purée, baby leeks, crispy lentils

$42

Mary's Organic Chicken

Chermoula, seared carrot

$36

Big Glory Bay Salmon

Shaved fennel, orange, chili oil

$40
Sides
Spicy Broccolini

$10

Herb Roasted Carrots

$11

Sauteed Spinach

$10

Asparagus Hollandaise

$14

Mushrooms and Onions

$11

Potato Gratin

$11

Truffle Baked Potato

$14

Lobster Fried Rice

$16

Pad Thai Cauliflower

$10

Yukon Gold Puree

$9

CP Fries

$9

Truffle Mac and Cheese

$12

Brussels Sprouts

$10
Wine at Charlie Palmer Steak Las Vegas
Charlie Palmer Steak Las Vegas, presented with the Wine Spectator Award of Excellence from 2001-2016, houses an eclectic wine list representing some of the finest producers in the world and is led by Master Sommeliers Lindsey and Steven Geddes. In addition to classics, true enthusiasts will discover little-known producers currently establishing themselves among the best in the business with a focus on those that produce less than 400 cases.
The list spotlights Napa Valley Cabernet and exciting new Pinot Noir producers from up and down the West Coast, with hand-selected and direct-from-the-winery back vintages as well as a wide range of old world wines from the Rhone Valley, Bordeaux, Burgundy, Spain, Germany, and Italy, and an ever-changing selection of 20 offerings by the glass. The glass offerings here are for reference only; you'll have to come by to discover what we're pouring.
By the Glass
Sparkling
Cava, Gran Sarao, Spain, Brut MV

$12

Burgundy Rose, Piuze, Chablis, France, Brut Nature, MV

$20

Champagne, Veuve Cliquot Ponsardin, Yellow Label, France, Brut MV

$29
White
Chardonnay, Moillard, Macon, France 2014

$17

Chardonnay, Limestone, Sonoma County, Califormia 2016

$25

Pinot Grigio, Dario Coos, Venezia Giulia, Italy 2014

$15

Sauvignon Blanc, Infamous Goose, Marlborough, New Zealand 2015

$15

Riesling, Trisaetum, Coast Range, Willamette Valley, Oregon

$16
Rose
White Zinfandel, Scholium Project, Il Ciliegio, California 2016

$17
Red
Cabernet Sauvignon, Martin Ray, Napa Valley, California 2014

$18

Cabernet Sauvignon, Peju, Napa Valley, California 2014

$28

Cabernet Blend, Justin, Isosceles, Paso Robles, California 2014

$45

Zinfandel, Biale, Black Chicken, Napa Valley, California 2015

$17

Pinot Noir, Higher Ground, Central Coast, California 2015

$17

Nebbiolo, Prevostini, Botonero, Piedmont, Italy 2015

$17
Dessert at Charlie Palmer Steak Las Vegas
Something Sweet in Sin City
Classic steakhouse desserts with some serious style
Brown Butter Apple Pie

Caramel creme fraiche ice cream

$10

Grand Marnier Flan

Mango sorbet, orange segments

$11

Dark Chocolate Layer Cake

Truffle curls, macerated raspberries

$12

Seasonal Berries

Sweet cream or creme fraiche

$12

Irish Coffee

Espresso-whiskey mousse, chocolate stout glaze 13

Chef's Selection of Ice Cream + Sorbet

$9
Cocktails at Charlie Palmer Steak Las Vegas
High-Rolling Cocktails
Enjoy handcrafted cocktails, wines by the glass, and artisanal beers from one of the sleekest bars on the Las Vegas Strip.
Ode to Classic American Cocktails


Boulevardier

We added a few ingredients to this classic, created by American writer Erskine Gwynne
Applejack, sweet vermouth, Campari, Aperol

$18

Old Fashioned

One of America's oldest + beloved cocktails from a recipe used from 1806 – 1930
Russel's reserve bourbon, water, sugar, angostura bitters, old fashion bitters

$18

Mai Tai

A tropical classic that was not created in the tropics
Mount gay eclipse, black barrel rum, orange juice, fresh line juice, orgeat + simple syrup

$18

Classic Sidecar

Said to be the only good drink that came out of the Prohibition era
Remy 1738, Cointreau Noir, fresh lemon juice

$18

Vieux Carre

This New Orleans version of the Manhattan was named after the French Quarter in the 1930s
Redemption rye whisky, VSOP brandy, sweet vermouth, benedictine, Peychaud bitters

$18
South of The Border Negroni

A simple twist on a classic
Espolon tequila, sweet vermouth, Campari, Aperol, orange, and chocolate bitters

$18

Aviation

A true classic created at the Hotel Wallick in New York around 1916
Botanist gin, creme de Violette, luxardo, fresh lemon

$18

Corpse Reviver

Created in the 1930s as the original "hair of the dog" hangover cure
Empress gin, Cointreau, Lillet Blanc, absinthe, fresh lemon juice

$18

The Last Word

A prohibition-era cocktail developed at the Detroit athletic club in the early 1920s
Aviation gin, green chartreuse, luxardo, fresh lime juice

$18

Texas Mule

A seasonal twist on a classic
Deep eddy vodka, peach liqueur, fresh lime, ginger beer

$18
Reverse Happy Hour
Join us at the bar nightly from 9:30 pm - 10:30 pm for a burger-centric happy hour menu.
"Lalo's" Wings

Chicken wings tossed in Chef's sweet and spicy orange-ginger sauce

$8

Mary's Turkey Burger

Pretzel bun, creamy cheese sauce, shaved carrot salad

$9

Black Angus Burger

Potato bun, American cheese, bibb lettuce, fresh tomato

$9

Mishima "Wagyu" Burger

Brioche bun, comté cheese, tomato-pork belly jam

$11

Impossible Burger

Potato bun, shaved iceberg, sundried tomatoes, brown mustard

$10

CP Fries

Crisp hand-cut french fries

$4

Wine by The Glass

$7

Chardonnay, Novellum, France 2017

Syrah Blend, Quinta do Gradil, Portugal 2016

Rose of Pinot Gris, Band of Brothers, Washington 2018

Big Dog Brewing Company

$6

Las Vegas Craft Lager

Dirty Dog IPA

House Cocktails

$9

Vodka or Gin Martini

Rye or Bourbon Manhattan
Cut of The Week
March 9TH - March 14TH
Each week, Charlie Palmer Steak Las Vegas offers a seasonal Cut of the Week menu, featuring a hand-selected, unique cut of meat paired with a first course and family-style sides, presented with "bottomless wine pairings" for just $58 per person.
Salad
Bloomsdale Spinach Salad

Yellow tomato, apple, feta cheese, bacon vinaigrette

Chardonnay, Novellum, France
Main
Dry Aged Ribeye

Chive butter

Syrah Blend, Quinta do Gradil, Portugal
Sides
Garlic Beets & Carrots

Smashed Pee-Wee Potatoes
Dessert
Honey Toast

Strawberry, cantaloupe, ginger ice cream