Main content starts here, tab to start navigating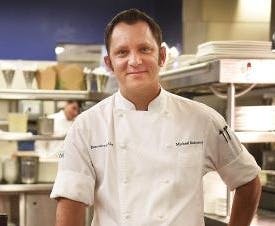 MICHAEL MAHONEY
EXECUTIVE CHEF
­A proud native of Reno, Executive Chef Michael Mahoney joins Charlie Palmer Steak Reno with a passion for food, a heart for service, and a deep connection to the local community. Inspired by Reno's emerging culinary landscape, Chef Mahoney brings a fresh and imaginative approach to the bold, American style-menu at Charlie Palmer Steak.
A graduate of The Art Institute of California – Sacramento, Chef Mahoney joined the Charlie Palmer Group in 2013 as a line cook at Charlie Palmer Steak and Briscola in Reno's Grand Sierra Resort after completing a four-month externship. He then worked his way up to Executive Sous Chef of Charlie Palmer Steak Reno, a role he held for three years before being promoted to Executive Chef.
Prior to joining the Charlie Palmer Group, Chef Mahoney served as a Military Police Officer in the U.S. Army, deploying overseas in Kosovo, Hungary and Iraq. Outside of the kitchen, Chef Mahoney enjoys spending time with his wife, Estrella, and their two children.